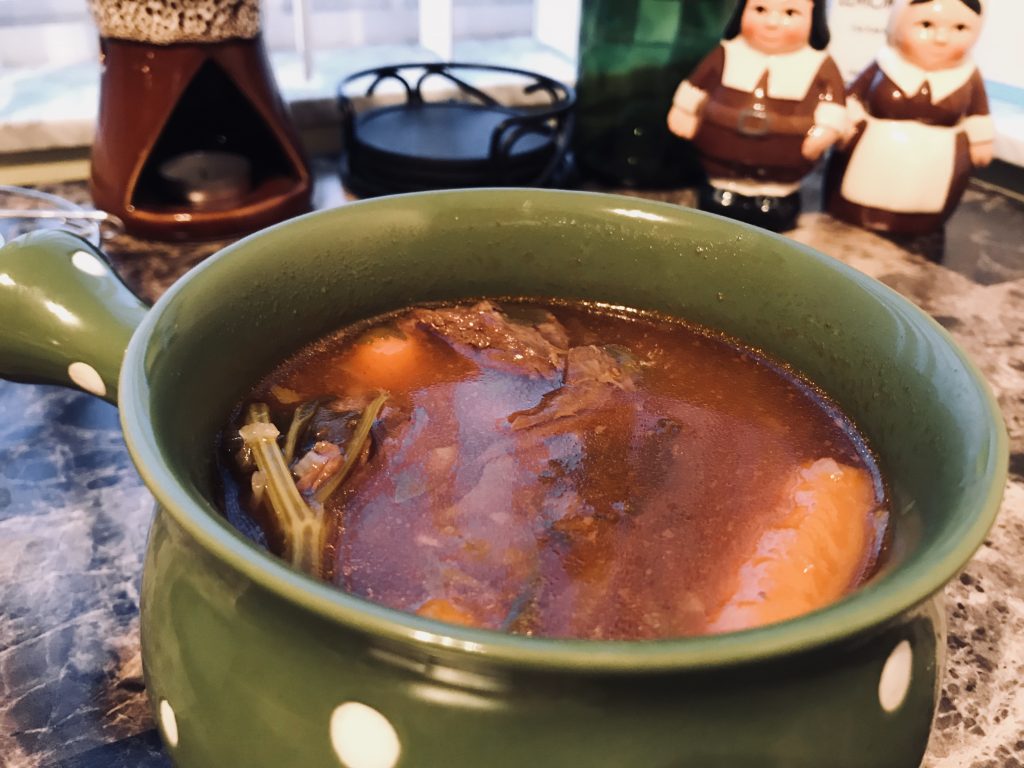 The first time I made this delicious and hardy beef stew recipe, I barely had any vegetables on hand. I decided to go for it anyways, inspired by one of my favorite childhood stories Nail Broth. So this recipe will vary slightly depending on what you have. The basics are the same though… kind of like making vanilla ice cream. Using organic veggies increasing the flavor exponentially.
Thanking the cow for its service to you is also and awesome thing to do. 🙂
Ingredients
1 lb of grass fed stew meat (because we want the cows to be happy)
2 cups water (if you add more veggies, reduce this slightly)
2 tablespoons olive oil (oil is a must to prevent foaming within Instapot)
1 package Lipton Onion Soup Mix (this is the secret ingredient)
2 cups chopped celery (include the leaves for intense flavor)
1 8 oz package of baby bella mushrooms
6 small potatoes – quartered
1 teaspoon baking soda (with one cup water)
2 tablespoons cornstarch (with two tablespoons water)
Salt and Pepper to taste
Soak the stew meat in a mixture of 1 cup water and 1 teaspoon baking soda for 20-30 minutes. This will make the meat easier to brown.
Set the Instant Pot to saute and add the olive oil. When oil is hot, add beef and stir to brown. Add salt and pepper as desired. Adding too much meat at same time may steam instead of brown, so try to add gradually if possible.
Once meat is nicely browned, add water then stir in the package of onion soup mix. This adds the perfect ratio of onion flavor and creates a wonderful bouillon. Add any veggies you'd like at this point and mix.
Cancel saute mode and set your Instapot valve to seal. Press the meat stew button.
Your Instant Pot will start cooking for 35 minutes after pressure is reached, which could take anywhere from 5-10 minutes, maybe even longer. After cooking time is finished, many folks recommend natural release for better flavor, it's up to you. I have tested this recipe twice with manual release. Before opening the Instant Pot, make a cornstarch slurry by whisking 2 tablespoons of cornstarch with 2 tablespoons of water. Mix the slurry into the pot to thicken stew. Let cool and enjoy with your favorite book, person or Netflix show. The flavor is wonderful and ever so comforting… just like my mom never made. I always hated stew when I was a kid, so no happy memories there.
Let me know in the comments any variations you might have tried! Like throwing in a regular size can of tomato sauce… I did this last night and it was crazy good!